After reading so much about Turkey and its history during my childhood years,and spurred on even more by watching a number of historical documentaries about the Trojan Wars as well as on the history of the Ottoman Empire, I convinced my wife to go on a trip to Turkey. As we did not have any friends or family there, we decided to take a packaged tour from Trafalgar called "Best of Turkey 2005". The tour was an absolutely delight. We were joined by other tourists from the United States, Australia, New Zealand, Saudi Arabia and Taiwan. The places we visited included the Gallipoli Peninsula, Cannakkale, Troy, Izmir (or Smyrna), Pamukkale, Hierapolis and Antalya, Konya, Cappadocia, Ankara, Gordion, Bursa and Istanbul.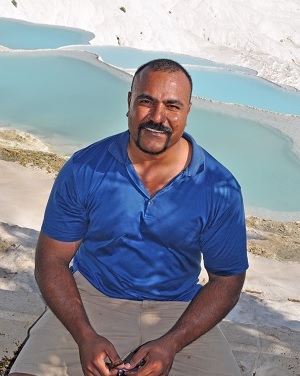 Istanbul, Gallipoli and Troy
The trip started in Istanbul where after a quick briefing from our tour director about the tour as well as on basics that all tourists who visit Turkey are expected to know, we boarded the bus towards the Gallipoli Peninsula. This peninsula has special significance in history since during World War I, the allied forces attacked the Ottoman armies here in order to provide some relief to the Russian army that was fighting to the east. However, many of the battles fought ended disastrously for the allies due to some miscalculations in their landings as well as due to Ottoman troops, lead by a then low-ranking army officer, Mustafa Kamal, defending their positions extremely well from well fortified positions. Mustafa Kamal, who later came to be known as Atatürk due to his role in liberating Turkey from the occupation that followed the collapse of the Ottoman empire, would then go on to establish good relations with the West, and would also build a monument here for everyone who perished in the battles that occured near the peninsula.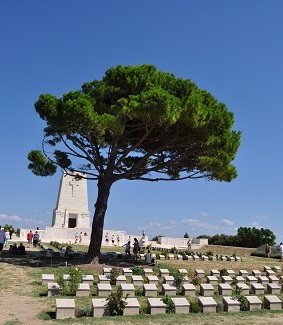 People who don't travel cannot have a global view, all they see is what's in front of them. Those people cannot accept new things because all they know is where they live. ~ Martin Yan
From here, we left to visit the ruins of the ancient city of Troy. Although this city played a both legendary as well as a factual role in the history of the Mediterranean for nearly for three thousand years until the fourth century BC, all that remains now is scant remains of what must have been a large fortified settlement. Apparently, the city was destroyed and rebuilt nearly nine consecutive times from the beginning of the bronze age until it was abandoned fully in the 4th century AD. There was a large wooden horse at this site symbolic of the famous Trojan Horse that played a crucial role as described in the Homeric legend, permitting the Achaeans to come into the fortified walls of the Trojans subversively, and later destroy the city.
Pergamum, Asclepeion, Cannakkale, Pamukkale and Ephesus
We later drove to the visit the remains of the ancient city of Pergamum as well as the site of an ancient medical centre known as Asclepeion. Pergamum was a famous city both during Greek as well as Roman occupation and was known both for its famous library as well as for the huge treasury most of which was a result of Alexander the Great's many conquests in Asia. The medical centre called "Asclepeion" that we visited was devoted to the god Asclepius. This is where the ancient physician Galen practiced and laid down many rules of medicine before he moved and eventually settled in Rome.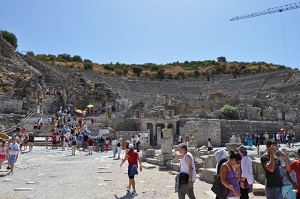 Later, we drove to the town and sea port of Cannakkale which has had continuous occupation for almost 6000 years. This town apparently played a crucial role in the battles near the Dardanelles during the First World War. We stayed for only one night here. We wandered the town centre with other travellers in our tour group and did some shopping at night as well. They had some really nice restaurants which served great sea food. There were many stores that carried excellent Turkish desserts which we sampled as well, but we decided to crash to bed a little earlier than usual in order to rest up for the long day of travelling ahead of us.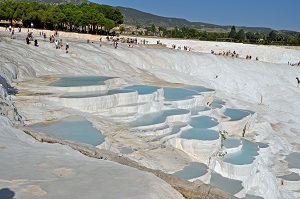 From Cannakkale, we drove to the site of Ephesus next morning. This ancient city of myth and legend has to be my favourite among all the places we visited in Turkey. Entrance of the site was lined with Eucalyptus trees, and after visiting the ruins of an ancient theatre nearby, we walked along the marbled street to the famous Library of Celsus. As we walked the marbled streets, we noticed many small streets leading to partially excavated small houses situated on small hills. There were many interesting things to see here including ancient baths, an ancient brothel as well as ancient public toilets. ☺ As we walked further, we reached a large rectangular area what our tour described as the city square. This place must have been beaming with merchants, shops, and people. Apparently, even Saint Paul preached here at one time.
Then, we made our way to another ancient theatre called the Odeon, and later visited another one, even more grander, called The Great Theatre of Ephesus. From here, we boarded the bus again, and after about 10 minutes of driving arrived at the Temple of Artemis. This temple was one of the seven wonders of the ancient world and was a huge temple complex that had existed beginning 6th century BC. Nothing remains on the site except for a few marble columns. From here, we left for a leather co-operative nearby. Turkish leather is quite famous and is exported around the world.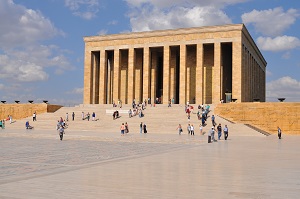 From there, we drove to the Bulbul mountain to the shrine of Virgin Mary. It is rumoured that Mary and St. John may have lived their last days here. There was a chapel dedicated to her that we visited. Another neat attraction at this site was the "Water of Mary", a fountain that is regarded by many to have healing properties. There was also an ancient baptismal pool here in which many people were baptized simultaneously according to our tour guide. From here, we left for the beautiful town of Pamukkale. Pamukkale is known for its mineral springs which flow over brilliantly white calcium-laden rock formations. This place was a spa during Roman occupation, and the Romans also built a city called "Hierapolis" around these springs. A large temple dedicated to Apollo is still here, although in ruins due to the many earthquakes that seem to have rocked this region over the last two millennia. The big cemetery called "Necropolis" featured many interesting tombs of the spa residents ranging from the senators to gladiators. We also visited a large museum which featured many of the artifacts that were discovered here, as well as from many adjoining areas. That evening, we had a night of celebration featuring traditional Turkish cuisine, dance and music. Later, after a good night's sleep, we headed to Antalya.
Antalya, Perge, Aspendos, Konya and Cappadocia
Antalya is a city in southern Turkey that sits on the Mediterranean coast, and was a extremely prosperous city during Roman times. The temperatures were soaring when we reached this city (I think it was about 42 degrees celsius), and so we avoided going to the beach during both two days that we stayed there. We roamed around the city instead, did some shopping as well as ate at some neat restaurants.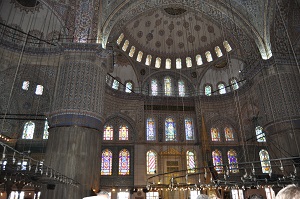 After the two days stay at Antalya, we drove to Perge. On the way, we stopped to see a small town as well as an ancient amphitheatre. Aspendos, as it is called, is the most well-preserved Greek/Roman amphitheatre in the world. This large theatre was commissioned by the great Roman emperor, Marcus Aurelius, is said to have been built over a more ancient Greek theatre. We were astounded to hear that this theatre could seat nearly 15,000 people and is still used for performances. From Aspendos, we made our way to Perge. This was an ancient city that has had both Greek as well Roman influences. Alexander the Great apparently used this fortified town as a base on one of his war campaigns in the region, and you could tell the Hellenic influence in the architecture of the statues here. There were marbled streets running the cross section of this settlement, and there were many ancient Roman baths here that are in a well-preserved state.
From Perge, we made our way to Konya. There, we visited the mausoleum dedicated to Mevlana Jelaleddin Rumi as well as many other members of the Whirling Dervish mystic sect of Islam. We spent the afternoon resting in our hotel, and in the evening were treated to a performance by the dervishes at a caravanseray nearby. Caravanserays were traveller inns that were constructed along ancient trade routes so that merchants travelling long distances could bring their animals and merchandise and rest for the night. The caravanseray where the performance was held was very large. There was some musical entertainment as a prelude to the main performance. The dance of the dervishes (sufi priests) that followed was simply incredible. We later came back to our hotel and crashed for the night.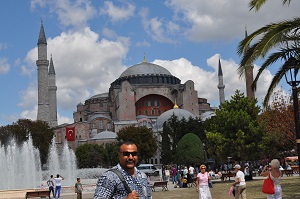 In the morning, we visited another large Caravanseray nearby called Sultanhan Caravansary. It was built during the Seljuk period in 12th century AD. It was massive and looked like a fortress. There was a small mosque in the middle, and had a large courtyard surrounded by large number of rooms for travellers, as well as many resting areas for animals. From here, we made our way to Cappadocia which is also one of my favourite places in Turkey. This entire region is dotted with small hills, caves and troglodyte dwellings. We visited some underground caves where many ancient christians lived. There were numerous small churches within these caves (rumoured to be about 365, one for each day of the year), and the murals on these caves are clearly visible even to this day. Later, we had some Turkish ice-cream along with other members of our tour group and retreated to our hotel.
Ankara, Gordion, Bursa and More Istanbul
Next morning, we drove to the Turkish capital city of Ankara. Here, we visited the famous mausoleum of Ataturk. This is a large city, and a history lover's paradise as it had many ruins belonging various civilizations including Hittite, Byzantine, Greek, Roman and Phrygian among many others. We visited many historic sites including many beautiful Ottoman period mosques. One of the highlights for me here was the Museum of Anatolian Civilization. This museum featured artifacts ranging from Palaeolithic to modern times. A complete replica of the tomb of King Midas was displayed here.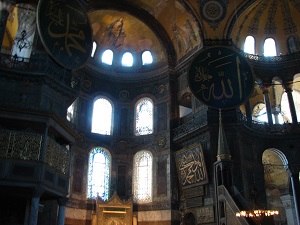 After resting overnight, we left for Gordion, the city of King Midas, the next morning. The tomb of King Midas lies buried deep under a large mound that appeared as a large hill from a distance. Cyrus the Great was apparently here during his conquests, and so was Alexander the Great who apparently cut the "Gordion Knot" here. There was also a small museum here that we visited. This museum featured artifacts from the bronze age, the Phrygian period, Persian period, as well as from Hellenic and Roman times.
From Gordion, we then left for the former capital city of the Ottoman Empire. Bursa is famous for its silk these days, and we visited many neat silk markets while we were there. We also visited some beautiful mosques from the Ottoman times. We also visited a Turkish rug factory nearby and were shown the entire process of silk making right from the extraction of the strands from the cocoons of the silkworms to the finished products. Some of the beautiful rugs on display here had taken nearly two years to complete. The prices were still high here, and so, we did not buy anything here. There were numerous museums in this historically and culturally rich city as well, but we did not have time to visit any of them. We had a great meal in our hotel that evening and crashed earlier than usual to prepare for the two full days on sightseeing in Istanbul that were ahead of us.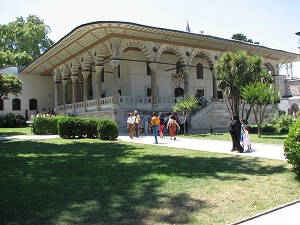 From Bursa, we drove for some distance on the bus, and later took a ferry to cross the Sea of Marmara to Istanbul. We also saw some neat palatial houses of the rich and famous on the way into the city. We then checked into our hotel after which we all left to see the Blue Mosque, the Topkapi place and the Hagia Sophia. I cannot even describe the breath-taking workmanship that must have gone into the building of all these monuments.
The Blue Mosque was stunning to see both from the outside and inside. The Topkapi place gave us a glimpse into the luxurious life that the Sultanate must have enjoyed during their glory days. The Hagia Sophia had always been a place that I wanted to see all my life and standing inside it felt simply unreal. There was some renovation going on the inside to strengthen the structural foundations of this colossal monument. To think that this structure has stood erect for nearly 1500 years despite all the earth quakes, wars and other turmoil in this region is a testimony to the workmanship of the construction crew from the days gone by. That evening, we were treated to a "Turkish night", and were treated to a four-hour long entertainment that featured various ethnic dances as well as Turkish food. Watching the variety of dances in the performance reminded me of the scale and size of the Ottoman empire, and the many cultures that it had assimilated into its own.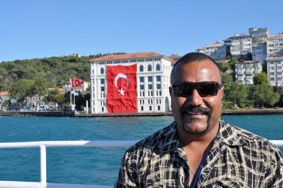 Last day and Trip Summary
The next day, we spent the morning and a little bit of the evening exploring the famous Grand Bazaar, one of the largest covered markets in the world, with some 50 streets and 4,000 shops carrying anything from jewellery, pottery, spice, and carpets. We did feel very claustrophobic being there as there was pressure from the vendors to buy their goods, but we made a quick run through the market to take in the experience. We returned to our hotel, and later left for our farewell dinner with our tour guide and travelling companions. We had come to experience so much fun due to many things including the country itself, the people who live in it, our tour guide (Mete Mutlay), our super friendly travellers as well as the pace of the tour which offered the right amount of historical and cultural sight seeing as well as leisure. We said goodbye to our tour group and left for Canada.
Overall, I would say that this was an excellent first tour to take if you are interested in taking a broad experience of the history and culture of Turkey. We hope to go back in the future and spend some more time especially along the Aegean coast as well as on the eastern side of Turkey where there are numerous places of historical interest. But, that will have to wait for many more years as we want to cover some other areas around the Mediterranean. :-) Hope you found something in this blog to inspire you to check out the beautiful country that is Turkey. Safe travels!