Hello, Visitor. My name is Saravanan Subramanian (சரவணன் சுப்பிரமணியன்), an old Tamil name that is pronounced "seruh-va-nun sue-bruh-money-yen") based in Regina, Saskatchewan, Canada.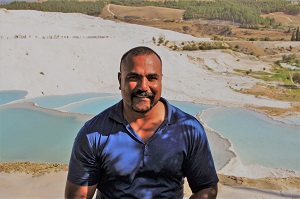 I grew up in South India mostly in the cities of Coimbatore and Chennai (previously known as 'Madras'). After my undergraduate degree in Engineering there, I moved to Saskatchewan in 1994 to pursue a master's degree in Biomedical Engineering from the University of Saskatchewan. I subsequently settled to live here as well.
"The only failure in life is the failure to try." ~ Anonymous
I am very passionate about software development and software architecture, and I am also thrilled to be involved in a field that is having a profound impact on the very nature of humanity in terms of changing as well as accelerating how humans learn, use and share knowledge with each other as part of the numerous commercial and non-commercial activities that we all collectively engage in every day.
Over the last 23 years, I have worked on some very interesting software projects ranging from rowing performance improvement studies, microwave guide design, teleradiology and imaging systems, electronic health record systems, financial and investment management-related applications, electronic document management and speech recognition-based applications. I have shared this journey with some sharp people over the years and have helped my clients and employers conceptualize, design, develop and implement ideas/products that are enabled by information technology in a cost affordable manner using both commercial as well as open source solutions.
Technologies and standards that I am most comfortable with include Java, .NET with C#, XML, Javascript (and frameworks such as JQuery, AngularJs and Knockout), PDF, DICOM, HL7, Cryptography, SQL Server, Postgres, Redis, Oracle, MySQL, SqLite as well as cloud platforms such as Microsoft Azure, Amazon AWS and the Google Cloud Platform. Over the past two decades, I have also gained many certifications on a number of technologies and standards from organizations such as IBM (XML), Stanford University (Software Security), Mirth Corporation (Mirth Connect Health Interface Engine) and HCI (Cloveleaf Health Interface Engine), IHS Markit (Financial Data Integration Hub), Charles River (Financial Trading), Open Group (Architecture), ISACA (COBIT), Sun Microsystems (Java) and Oracle (Database Development).
Some hobbies I enjoy include spending time with my family, reading, traveling, listening to 80's and 90's music, and learning the guitar. When I have any time left, I also try to write some articles on my blog on topics that interest me including technology, history, science, travel and reading. If you need to reach me, please send me an email, message me through Skype (my skype id is saravanan.subramanian), or leave me a voicemail at 306-992-0104.